Our Story
Aviation Ground Equipment Corp. (AGEC) a Veteran Owned Small Business was founded, in 1984 by two professionals in the ground support equipment industry. Over the past 33 years, AGEC has provided its customers with excellent service and support for their GSE needs.Our customers are, and will always be, our first priority.
"To Power the future of Ground Support Equipment for the Aviation Industry"
Commercial Distribution Network
Aviation Ground Equipment Corp is a leading distributor of ground power and support equipment. Our brands include but are not limited to:
-ITW GSE Hobart
-AGEC 400Hz. 28.5VDC and270VDC Aircraft input power Cables and Connectors
-Trielectron
-Terex / Genie Light Towers
-AGEC Manufactured ground power load banks to simulate 400Hz. 28.5VDC and 270VDC aircraft
-AGEC Aircraft Air-conditioners and Heaters (to cool or heat aircraft while they are on the ground)
Our goal is to make your buying experience a great one by providing you with the best quality products on the market, at competitive prices in a timely fashion. Distribution Made Easy is what it's all about!
Engineering
Aviation Ground Equipment Corp. has an experienced team of Electrical and Mechanical Engineers, Designers, and Technicians to design, develop and manufacture your product.  Our team of professionals will support the Full Product Life Cycle:
-Design / Development
-Testing
-Manufacturing
-Drawings / Technical Manual
-Support / Sustainment
Manufacturing
Aviation Ground Equipment Corp has extensive experience in the production of all ground support equipment, specializing in the area of ground power.
Our manufacturing facility has over 80,000 sq. ft. of dedicated state of the art manufacturing space.  AGEC's facility consist of several dedicated areas including, environmentally controlled Self-Contained testing labs, Electronic component calibration labs and Software development Labs. Our team uses the latest technology available to ensure each product meets our stringent quality standards.
Aviation Ground Equipment Corp has the resources, personnel, and corporate infrastructure to design, build, test, and deliver a technically superior product.
This is how we provide
Support from the Ground Up.
Provide outstanding service and quality products to our customers
Continually seek opportunities to innovate and improve
Conduct all business with integrity and honesty
Create ongoing win-win partnerships with suppliers and customers
Leadership by example
Provide great work environment for our employees
Continually improving our business operation and focusing on customer communication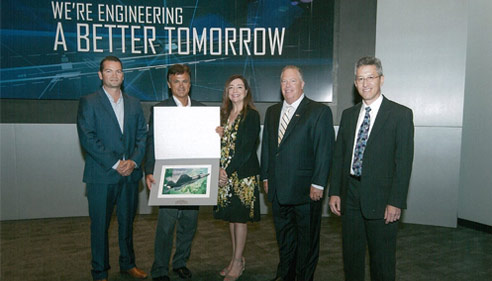 Awards
2015 Outstanding Small Business
2015 Recognition for Driving Affordability
2016 Recognition for Exceeding Customer Expectations in the Quality and Configuration Management of Operations and Maintenance Manual tech data.