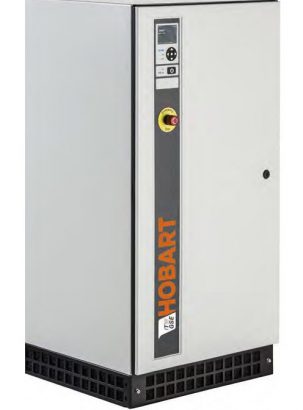 2400 30/45/60/90kVA 115/200 VAC 400Hz Solid State
Description
The Hobart PowerMaster 2400 series is the market's best choice when it comes to 400Hz solid-state Ground Power units. The Hobart PowerMaster is small and simple, reliable and robust. The 2400 features unique output voltage, smart user interface, software update via USB and the standard overload capabilities that match all types of aircraft. The Hobart PowerMaster 2400 is capable of delivering 400 Hz and regulated 28.5 VDC (additional option) power, simultaneously and independently. The 28.5 VDC Active Rectifier Unit (ARU) – available as an option delivers superior voltage quality at the aircraft plug without jeopardizing the 400Hz output. The Powermaster is available in 30,45,60 and 90kVA configurations with the option to be trailer or stationary mounted.   It goes without saying that the Hobart PoWerMaster 2400 will power your aircraft, whether a narrow body or a turbo prop, whenever you need it!
REQUEST A QUOTE
Features & Options
Specifications
Data Sheet
Features
Supports 400% overloads
90 kW continuous power at an ambient temperature of 56°C
TCP / IP connection to BMS as standard
DFS400 Specification for 400 Hz aircraft power
ISO 6858 Aircraft ground support electric supplies
BS 2G 219 General requirements for ground support equipment
MIL-STD-704F Aircraft electric power characteristics
SAE ARP 5015 Ground equipment 400 Hz ground
EN2282 Aerospace series characteristics of aircraft electrical supplies
EN62040-1-1 General & safety requirement
EN61558-2-6 General & safety requirement
EN61000-6-4 Electromagnetic compatibility
EN61000-6-2 Generic immunity standard
EN1915-1&2 Machinery; general safety requirements
EN12312-20 Machinery; general safety requirements
UL-1012 Standard for Power Units other than Class 2
Specifications
See Data Sheet for all Specifications.
Input Power Varies by model number. Please refer to data sheet for details
Line current distortion 90 kVA <5%, 60 kVA < 9%, 45 kVA< 10%, 30 kVA < 12%
Power factor 90 kVA: 1 @ nominal load; 45-60 kVA: 0.99, 30 kVA: 0,97
Inrush current: None
Output Power (refer to data sheet for more details) Rated Power: 30-45-60-90 kVA, PF 0.8-1
Voltage: 3 x 115/200 V
Frequency: 400 Hz 0.001%
Power factor: 0.7 lagging to 0.95 leading
Operating Temperature at: PF 1.0: -40°C to +56°C (-40°F to +132°F)
PF 0.8: -40°C to +60°C (-40°F to +140°F)
PF 1.0 with ARU – – 40°C to +45°C (-40°F to +113°F)
Relative humidity 10 -100%
Noise level <65 dB(A) @ 1m