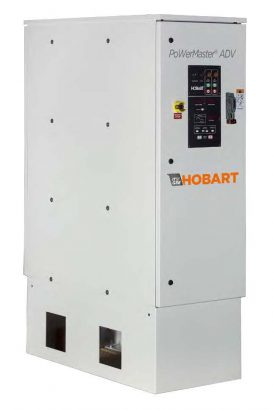 ADV 140/180kVA 115/200 VAC 400Hz Solid State
Description
The Hobart PowerMaster ADV 400Hz Solid State frequency has become the industry standard in 400Hz converters.  The Hobart PoWerMaster ADV it combines state-of-the-art technology and over 55 years of ground support experience to provide the highest quality power under the most demanding conditions. The PowerMaster ADV  features advanced system diagnostics, for easy service and simplified fault reporting and maintenance. With a wide array of output ratings available, optional 28.5 VDC output and a broad choice of input voltage configurations, this unit has the versatility to provide power to all aircraft from the smaller commuter airplanes to the largest wide-body jets. State-of-the-art design, easy of use, and power reliability are among the many reasons the PoWerMaster ADV has set a new industry standard.The PowerMaster ADV is available in your choice of 140kVA  or 180kVA configurations. The PowerMasterADV is the perfect choice for commercial or military applications with the flexibility to be trailer, stationary, or bridge mounted.   The ADV is proudly made in the USA.
REQUEST A QUOTE
Features & Options
Specifications
Data Sheet
Features
• IGBT PWM switching technology
• Clean, reliable power
• NBPT compatibility
• Lightest weight in the industry
• User-friendly controls
• Easy access for service
• Rust-free aluminum enclosure
• Built-in input power circuit breaker
• Memory stores 200 events for >30 years
• Measures power flow (kWh)
• High efficiency for low operating costs
• ETL (UL1012 and CSA) Certification
• Advanced diagnostics
• 12 pulse rectifier for lower ITHD
• Built-in Line-Drop Compensation
• Simplified fault reporting & maintenance
• Protected against input power micro-breaks
• 12 pulse rectifier for lower ITHD
Specifications
See Data Sheet for all Specifications.
Output Power 15/200 VAC, 3Ph, 400 Hz
Continuous Total Power Rating 140kVA (112kW continuous, 404 amps) and 180kVA (144kW continuous, 520 amps)
Operating Temperature: -40°F to +125°F (-40°C to +52°C)
Relative Humidity 10% – 95% non-condensing
Acoustical Noise: <67 dBA @ 1.5m high & 1m distance
Voltage Regulation: <1% no load to full load
Output Voltage Adjustment is 15 volts
Line Drop Compensation: Maximum 8%
Individual Harmonic Distortion: <2% of the fundamental (RMS) volt age
Total Harmonic Distortion: <3% of the fundamental (RMS) voltage
DC Content: <100 mV
Voltage Transients meet MIL-STD-704F and SAE ARP5015A
Phase displacement (balanced load): 120° ±1.5°
Frequency Regulation: 0.2 Hz (.05%)
Frequency Modulation < 0.25%
Dimensions: – 51″ L x 34.8″ W x 78″ H (Vertical) 60″ L x 53″ W x 23″ H (Bridge) 146″ L x 104″ W x 74″ H (Trailer)
Weight: 2173 Lbs. (Vertical) 1900 Lbs. (Bridge) 2650 Lbs. (Trailer)