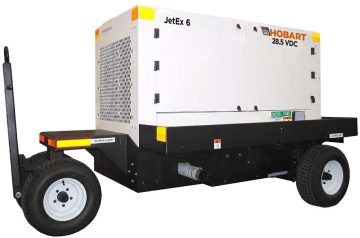 JetEx 6D 28.5 VDC Tier 3
Description
The Hobart JetEx 6D is a 28.5 VDC Diesel ground power unit that is capable of 600 Amp continuous and 2000 Amp on Start. The JetEx 6D is powered by a Cummins Tier 3 Diesel engine coupled to a Hobart Generator. Hobart Generators are the benchmark of quality and reliability giving users the best power quality without sacrificing durability. Simple easy to use control panel with illuminated analog gauges and back lit push buttons allows for easy operation under all conditions. Lift-off doors and removable panels allows for complete access to the engine, generator and control compartments.  Tier 3 units are only for use Outside the United States of America.
REQUEST A QUOTE
Features & Options
Specifications
Data Sheet
Features
Corrosion free fuel tank
10 hour run time for nominal loads
Low fuel warning and shutdown
Delayed stop (for turbo protection) and emergency shutdown
Numbered, color-coded wiring remains traceable for the life of the unit
Tow bar activated braking system
Adjustable current limiting for safe starting of any DC aircraft
Low noise design (less than 80 dBA)
5th wheel steering
MIL-STD-704 & ISO 6858
Machinery Directive
Low Voltage Directive
EMC Directive
Specifications
See Data Sheet for all Specifications.
Cummins QSB4.5 diesel engine operating at 1800 RPM
Turbocharged 4-stroke, inline 4 cylinder common rail fuel system
Full application approval by Cummins Engine
12 VDC battery system
Electronic governor system (via the engine' s ECM)
Intake manifold pre-heater for cold weather starting
Relative Humidity: 10-95%, non-condensing
Operating Temperature: -31° C to + 52° C (-25° F to +125°F)
No altitude derating required up to 10,000 feet when running in normal operating range.
28.5 volts DC output
600 amperes continuous rating at 28.5 VDC
2,000 amperes available for aircraft engine starting
Current limiting adjustable from 300 to 2,000 amperes
Line drop compensation assures proper voltage at aircraft plug
Dimensions: Kindly refer to outline drawings in the data sheet
Weight: 4,000 lbs. (Mobile), 3,700 lbs. (Fixed)
Dimensions 101" L X 67" W X 66" H