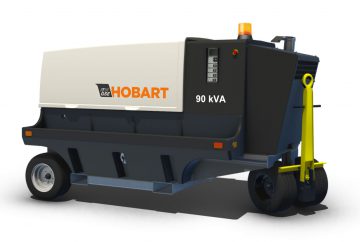 4400 60/90kVA 115/200 VAC 400Hz Tier 4
Description
The Hobart 4400 is a mobile diesel-driven 400 Hz 115/200V Ground Power Unit. The 4400 Series is powered by a Cummins QSB4.5 Tier 4 diesel engine coupled to Hobart generator. The Cummins Tier 4 Engine is Calibrated to meet the latest United States Tier 4 requirements. A Sliding canopy  made of durable lightweight Polyethylene provides easy access to the engine, generator and control compartments. With the new easy to use color digital display allows the operator to scroll through data at the push of button. USB connectivity allows the user to download software updates in the field and allows for easy troubleshooting. The 4400 is available in 60kVA and 90kVA versions with the optional 28.5 VDC Module and dual 400Hz  outputs.
REQUEST A QUOTE
Features & Options
Specifications
Data Sheet
Features
EPA Tier 4(f)/CARB Tier 4
EU Stage IV
MIL-STD-704F, SAE ARP5015 and ISO 6858
BS2G219
CE certified
28.5 VDC Active rectifier (simultaneous operation with 400 Hz), 60 0 amps continuous, 2000 amps peak
Fifth wheel steering
No load shut down
53 gallon fuel tank (200 L) with at least 8 hrs. run time at max full load
Fork lift pockets
Tow bar with parking brake
Sliding canopy for ease of access
Specifications
See Data Sheet for all Specifications.
Cummins QSB4.5 diesel engine operating at 2000 RPM
Tier 4 Final / EU Stage 4 compliant
Turbocharged 4-stroke, inline 4 cylinder common rail fuel system
Full application approval by Cummins
 24 VDC battery system
Electronic governor system (via the engine's ECM)
Intake manifold pre-heater for cold weather starting
Operating Temperature: -32° C to +52° C (-25° F to +125°F)
Relative humidity: 10-95% non-condensing
No altitude derating required up to 12,000 ft. (3,658 meters) when running in normal operating range
Continuous rating: 60 kVA (48 kW) 90 kVA (72 kW), 3 phase, 4 wire, 11 5/200 V
Meets or exceeds MIL-STD-704F, SAE ARP5015A and ISO 6858 power quality requirements
Line drop compensation assures proper voltage at aircraft plug
Dimensions: 110.9"L X 66.2"W X 64.5"H
Weight: 4200 lbs. (no cables, no 28 VDC and no fuel) 4500 lbs. ( with 28 VDC no cables, and no fuel)