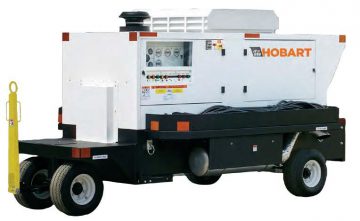 140/180kVA 115/200 VAC 400Hz Tier 3
Description
The Hobart 140CU20 (140kVA) and 180CU20 (180kVA) are mobile diesel-driven 400 Hz. Ground power units. They are powered by a Cummins Tier 3 diesel engine coupled to a  Hobart generator. Hobart 400Hz Generators are the benchmark of quality and reliability giving users the best power quality without sacrificing durablity. The Hobart 140CU20 and 180CU20 features a simple easy to use control panel with illuminated analog gauges and back lit push buttons. Removable access panels allow the user easy access to the engine, generator and control compartments.The CU20 Series is available in 140kVA and 180kVA versions with an optional 28.5 VDC Module.
REQUEST A QUOTE
Features & Options
Specifications
Data Sheet
Features
Large stainless steel fuel tank with 10 hour run time
Low fuel warning and shutdown
Delayed stop for turbo protection
Emergency stop shutdown
Hobart dual bearing generator offers long life and reliability
Numbered, color-coded wiring
Tow bar activated braking system
Superior frequency and voltage regulation
Lift-off doors and removable panels provide complete access to engine, generator and control compartments
Lost neutral detection
Dual 400Hz outputs for wide body aircraft support
Specifications
See Data Sheet for all Specifications.
Cummins QSB6.7 (140kVA) QSL8.9 (180kVA) diesel engine operating at 2000 RPM

 HP: 240 (140kVA), 325 (180 kVA)

 Operating Temperature: – 31° C to +52° C (-25° F to +125°F)

 Continuous rating: 140 & 180 kVA 3 phase, 4 wire, 115/200V

 Meets or exceeds both SAE ARP5015A and MIL-STD-704F

 Dimensions: 140kVA: 156.5 L x 76.1 H x 77 W 180kVA: 156.5 L x 76.1 H x 77 W

 Weight: 140kVA 7,000 lbs 180kVA 7,500 lbs.( 28 VDC TR/ adds 300 lbs.)