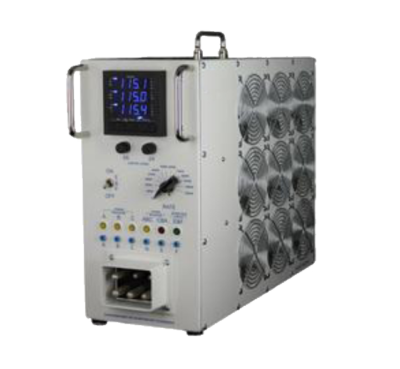 ACLB-100 Resistive 100Kw 115/200 VAC 400Hz Resistive
Description
The ACLB-100 400Hz 100Kw Load Bank is designed to provide a temporary load for field servicing and testing 115/200 volt 400Hz generators. It is air cooled and completely self-contained. The load can be adjusted from 0 to 100Kw continuous. The ACLB-100 features a standard 6-pin 400Hz aircraft  connection to allow the user to load test all 4000Hz ground power units. With an easy to read digital display the user will be able to easily check voltage and amperage readings. The ACLB 100 load bank is proudly made in the USA.
REQUEST A QUOTE
Features & Options
Data Sheet
Features
Four 3 Phase Balanced Load Steps: 10Kw,19Kw,28Kw,37Kw,46Kw,55Kw,64Kw,73Kw,82Kw,91Kw, and 100Kw
Plug test pins for connecting test leads
28V TR to provide voltage for interlock circuit
Circuit indicator for testing plug interlock circuit
Meters: Digital Meter to measure volts, amps, frequency, kw and power factor Power indicator lights
Phase indicator lights
Phase rotation lights
Thermal protection
Folding handle
Carrying case
Dimensions: 22"L x 8"W x 16"H
Weight: 45 lbs.